Skank the Play by Clementine Bogg-Hargroves is touring in 2022/23
by Asha
After a sell-out 2021 tour, The Times Critic's choice of Edinburgh 2021 comedy-drama SKANK is coming home! Last chance to see this critically acclaimed solo-show on its final tour. Tour ends summer of 2023.
Final Ever UK Skank Tour Dates 2023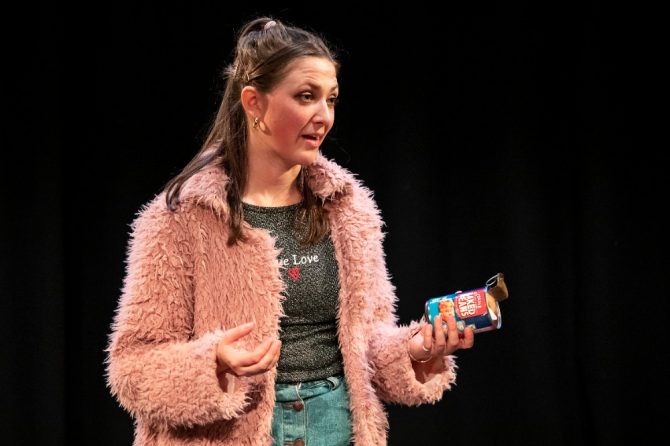 Clementine Bogg-Hargroves delivers "a painfully accurate slice of life" in this witty, dark, and often filthy, one-woman show. It'll make you laugh, and then it'll make you cry.

BroadwayBaby – 5 Stars
SKANKS just wanna have a clean bill of health, the adoration of the public and some decent recycling facilities.
"It's a gem."

Bouquets and Brickbats – 5 Stars
Kate could be a successful writer, if she could just concentrate. Instead, she needs to recycle this bean can, shag sexy Gary and stop obsessing about her inevitable untimely death.
"Moving and memorable"

North West End – 4 Stars
Past Tour Dates
Scotland
3rd – 29th August – Edinburgh Fringe 2022 – Pleasance 2
London
North East
Cornwall
Wednesday 9th March 2022 – 7.30pm – AMATA
Thursday 10th March 2022 – 7.30pm – Intro Bodmin
Cornwall 2023
South West
North West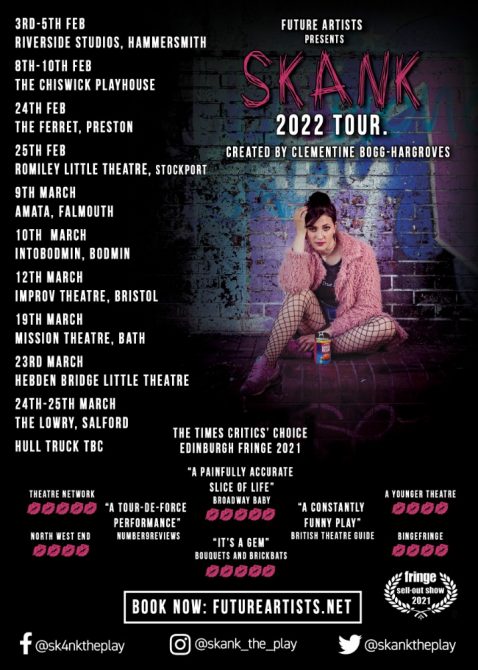 BUY THE PLAY BOOK – DETAILS HERE
Chat to us on social media
https://www.facebook.com/sk4nktheplay/
https://twitter.com/skanktheplay
https://www.instagram.com/skank_the_play/
Share this